Fund Raising
F
KC has never so far applied for grants, it has relied on donations from and funds raised by a number of wonderful and generous members and supporters. Every penny raised goes to fund the work in Kenya.
The pound a week fund (Since 2016 now combined with Project 36 to form the Boarder support fund)
T
This fund cares for Lodwar children and others boarding at Champions School. The school cannot support the boarder programme from its own resources, the boarders can continue to receive essential love and security as well as an excellent primary education, only as long as FKC can fund their school fees and total living costs, currently (in 2017) set at £960 per annum for each boarder.)
Project 36 (Since 2016 now combined with the £1 a week fund to form the Boarder support fund)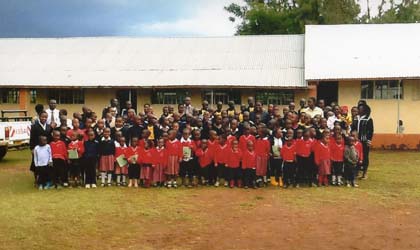 S
et up to provide secure funding for teachers' salaries, this fund achieved its aims in 2016, when the school reached a stage of financial security such that it was able to meet the monthly salary bill from school fees and other local income. Contributors to Project 36 were asked whether they would transfer their support to the boarder support fund (see above) and this income now helps FKC to meet the monthly cost of the boarder programme at the school. Many more contributors to this fund will be needed if the boarder programme is to be sustained. Every child taken into the programme is in very real need. This is life-changing work – and has to be funded from here.
Future sustainability fund (k/a Solar Panel Fund!)
The school has been built, stage by stage, as funds allowed. Now, to help them achieve safe self-sufficiency, we need to provide long-term cost-saving measures to reduce running costs. The first of these is a complete solar energy project, using the equatorial sun and huge school roof to dispense with mains electricity! The sums involved are considerable – but the gains it offers are worth it. This is a real investment in the future of the school and therefore in the lives of countless future pupils.
Sponsorship for Secondary Education
E
ach year the children in Class 8 reach the end of primary school and take the all important State Leaving Exam. Those who pass are offered places in Government High Schools, where a further four years in secondary education will set their feet on a path out of poverty and into successful adult life. FKC seeks sponsors for the orphans in the class and where possible also for those children whose parents are too poor to finance their continued education. This sponsorship is individual, in the sense that each child is allocated a specific sponsor but there is no direct personal contact unless the sponsor requests it - there is no obligation to see a child through the four year course, sponsors for a year at a time at £1000 each are very gratefully received.
General Funds
F
unds are raised by generous gifts from FKC's many friends and by practical hard work. These include gifts for birthdays, anniversaries and memorials, unexpected tax rebates(!), professional fees, quiz nights, concerts, auctions and much more.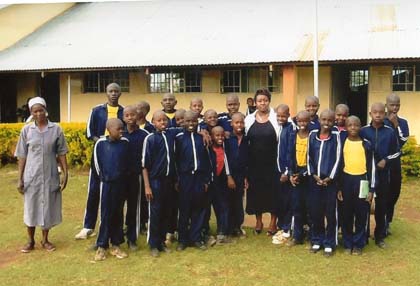 And then there are the SALES. The Christmas Market is a church event and proceeds are shared with the church to which most Trustees and many supporters belong, without whose support – and free use of the premises – FKC would simply not be able to do what it does.
Every Saturday in term time a charity shop is held in one room at the church. Staffed entirely by volunteers, this is a source of a weekly income which accumulates to help meet the needs of the moment.
The annual, April "Three Day Charity Shop" is a wonderful source of funds – sufficient in 2015/16 to fund the final phase of the school building programme. The collecting, transporting, sorting and storing of goods for the Big Sale and the charity shop go on throughout the year. Supporters all around the country gather stuff from friends and family and everyone possible is roped in to set up, serve at, and clear up the sale– it is a mammoth operation.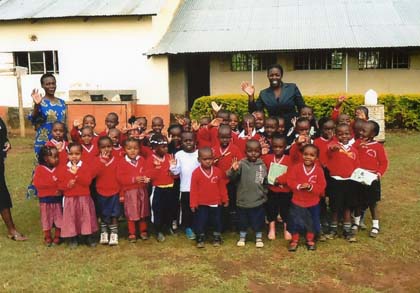 The sale in 2017 will hopefully raise enough to make FKC's Trustees believe that achieving the Solar Panels Project will be possible. This project will demand very serious fund-raising over a period of time, but a good start from the Big Sale will be a huge help.. This is an exciting, always developing scheme with such a marvellous goal in view - a fully functioning, independent, first rate primary school serving a slum community with no other comparable school close by.
Saturday Charity Shop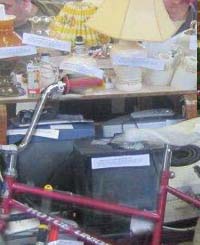 Venue :
Alvaston Methodist Church
Brighton Road
Alvaston
Derby
DE24 8TG

Every Saturday in term time
10.30am until 1.30pm

Everything you would find in a charity shop
and much more!

Almost new clothes
Household goods
Soft Furnishings
Books, videos, CDs
Home made scones and lunches
Small furniture
Toys & games
Jewellery


Refreshments & lunches
in the coffee bar

Free Admission

Come and browse - take all the time you want - find just the thing you were looking for at a very, very good price.
Expenses
No charity can run without incurring expenses, for printing and postage, advertising events etc. We are very fortunate in that our web site is written and managed by a Supporter free of charge, and all other expenses are currently covered by two Supporters who donate their wages from part time employment for this specific purpose.