FKC Timeline (10)
January 2008
F
ollowing a contested election in Kenya, unexpected violence breaks out in many places in the Rift Valley, with Eldoret at the eye of the storm. Many homes are burned or destroyed and people killed, the whole area empties of people as families flee for their lives. The Pastor's family takes refuge with friends but he remains in Eldoret to help his people where possible. The school closes, its children and teachers all disappear to safety elsewhere.
Slowly, as the political situation improves, people begin to return to the area, some are the people who fled, others are new to the district but seeking a new start after the violence. FKC is able to provide the Pastor with some funds to help the people get started again; this is used as it is received to alleviate immediate desperate need.
February - March 2008
G
radually some normality returns to life in Eldoret as hope for the political future looks possible. The school reopens, with numbers of children increasing each week. Amazingly, whenever possible work on the new buildings has continued and the classrooms and hall are complete, the kitchen now being built and equipped. These are permanent structures, built to last - they will transform the school.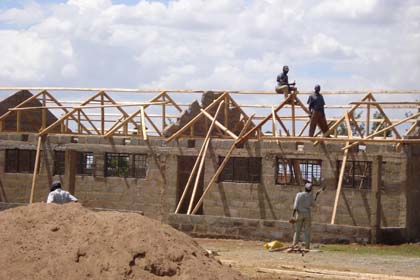 See the photos of the building work for 2008
here
The Pastor says that seeing the work continuing in spite of all the fear and uncertainty has been a beacon of hope in the area. Long may that continue.



Timeline from our Archives