FKC Timeline (5)
November 2005
T
he 20 Lodwar children in nursery class in Eldoret "graduate" into primary schooling. New classroom built on the leased land and teacher employed.
The pastor puts down the required deposit on the permanent school site, the balance needed by May 2006.
A Birmingham Churches group invite Sandra to talk about the project, and volunteer to raise the balance to complete the purchase of the land.
Decision made to send another container of goods in autumn 2006
January 2006
A
fter consultation with all Friends, decision made to apply for charity registration as an unincorporated association, membership by minimal annual subscription open to all interested people.
Title for the new association decided. To be known as Friends of Kenya's Children. (FKC)
February 2006
T

he Eldoret school expanded to take in needy local children, now 50 pupils in all, in six age-appropriate classes.

Newsletter 6 issued.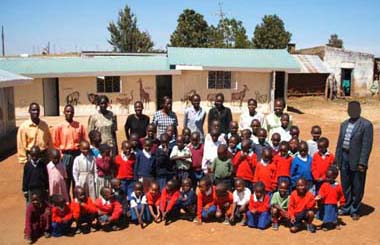 Timeline from our Archives