FKC Timeline (7)
June 2006
F
KC's Inaugural meeting held on June 12th. Constitution adopted, Trustees appointed, application for registration by the Charity Commission initiated.
Eldoret school inspected by Kenyan Government Inspectors, who found the education provided to be satisfactory, and the buildings adequate apart from a need for a better kitchen and some minor work on the ventilation of a classroom. This approval an important milestone in the life of the school.
August 2006
A
T Good News Crusade camp an appeal is made for sponsorship for the 6 teachers and 50 children in the school, to secure their education and keep for the time being.
The pastor visits Derby and provides an update to friends and members gathered for a meeting. Also visits the second supporting church and helps gather up items for the container from all round the country.
September to November 2006
O
n 1st September FKC became a registered Charity, no 1116000.
Container of goods dispatched on October 18th, due to reach Nairobi early December. Newsletter 7 issued.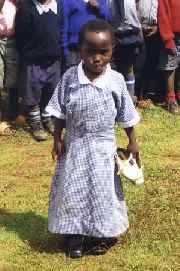 Timeline from our Archives