FKC Timeline (9)
August 2007
F
KC's first annual General Meeting. The pastor visits Derby for this event to bring an update on the work. He reports that the Eldoret school is progressing well, great need is now for a dining hall and kitchen and further classrooms for the school .
Reports that a difficulty may arise in Lodwar in that new Government rules require all orphanages to have a prohibitive sum of operating capital. Plans made for the future that would avoid having to abandon the children, provided the pastor can obtain the cooperation of the relevant officials in moving towards a solution over a period of time.
November 2007
B
uilding programme to improve and develop the school in Eldoret begins. Good News Crusade is to fund a classroom in memory of Heather Double, Co-Founder of GNC. FKC agrees to fund dining hall and kitchen. Pastor says that four classrooms, dining hall and kitchen can be achieved if funds are pooled - obviously the right way forward, all agreed.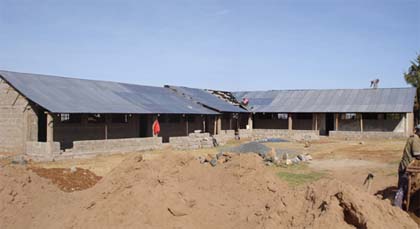 You can see the 2008 building work photos
here
Government officials agree an "amnesty" on the need for large operating capital for Lodwar orphanage. This provides breathing space for proper plans to be made. Everything going well.



Timeline from our Archives