FKC Timeline (11)
April 2008
T
he Pastor is allowed for the first time to visit to Displaced Persons' camp in Eldoret - and there he finds the "missing" 30 children from the school, living with their families, including 10 of the children fostered from the Lodwar orphanage. Conditions in the camp are grim, the rainy season brings the misery of leaky tents and mud and basic facilities are overstretched by the 16,000 people crowded into a small space. Using FKC's crisis fund he is able to provide essentials of clothing and food as a short-term help. The families are still too afraid to risk leaving the camp.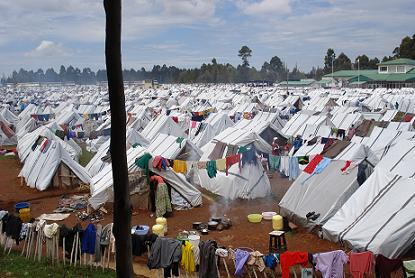 The 181 children supported in and by the orphanage in Lodwar continue to be safe and well. Any thought of moving those without family connections in Lodwar to Eldoret is suspended for now as we respond to more immediate concerns in the Eldoret community. The price of food is causing concern, we reluctantly turned the £1 a week animation on the website to £2 recently, and even that is little enough now.
One of the Pastor's Assistants who was working with him in Eldoret, comes originally from the North, and following the destruction of his home in the violence, he has moved with his family back to his safe home area. Whilst this is an upheaval for the family - and his children can no longer attend our school - it does mean that support for the orphanage may be easier - travelling to fetch wholesale food from Eldoret can be shared, for example.
The 4 new, brick-built classrooms at the school and the dining hall are built and the kitchen is almost ready for fitting out. Finance was made available to connect the water supply. Work has continued throughout the crisis period, giving hope to the returning community. There are now 40 children regularly in school, 30 who have returned to the area with their families, and 10 new scholars whose families have moved to the area and are amazed to find a school for their children.



Timeline from our Archives